Humanities teacher Sydney Chaffee '05 inspires her students—and fellow educators as well.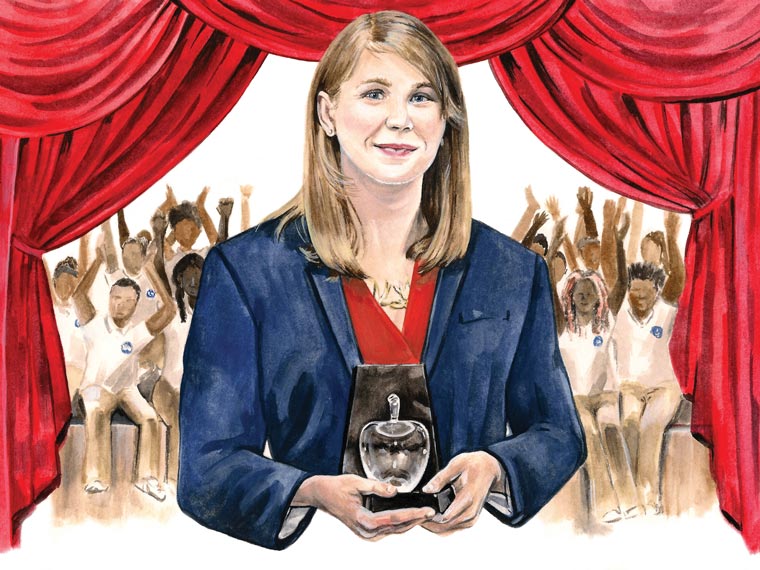 If a shiny red apple is the iconic reward for great teaching, Sydney Chaffee '05 finds herself striding through the heart of an orchard. Named the National Teacher of the Year, she's been selected to represent and advocate for her profession, traveling across the country and around the world.
As she started college, Chaffee thought she'd become a poet, but her professors at Sarah Lawrence inspired her to teach instead. When she told Lyde Sizer (history) of her plans, Sizer gave Chaffee a copy of a book written by her father—the noted education reformer Ted Sizer—and arranged for Chaffee to observe at one of his schools. "It was that kind of encouragement, and also instructors like Mary Dillard (history) in African women's literature and Kasturi Ray (global studies) in Third World feminism," she explains. "These were women who are incredibly smart, pushing me in ways that I had never been pushed."
As a ninth-grade humanities teacher at Codman Academy Charter Public School in Dorchester, Massachusetts, Chaffee's lessons mix history and writing. "We are a tiny K-12 school focused on hands-on, authentic, project-based learning with kids," Chaffee says. "We're invested in a holistic education, making sure to focus on our students' wellness." Clearly, that investment pays off. Codman's graduates boast a college acceptance rate of nearly 100 percent.
Chaffee is also known to incorporate theatrical performance into her curriculum to improve literacy and presentation skills and give students a sense that they can impact the world through social change. How does she do that? Engaging subject matter.
"I intend to push for all diverse learners to have access to quality education and for teachers to have the chance to be lifelong learners."
This year's culminating performance was a play, an adaptation of Sizwe Bansi Is Dead, set during apartheid in South Africa. Students also learned a great deal about this struggle throughout their humanities studies, including a major section on apartheid activist Stephen Biko.
"Every single ninth grader is in the performance," Chaffee says. "You get to make sure they understand the flow of the script, the characters' motivations."
But she hasn't completely left her old friend poetry behind. Chaffee helps her students become more comfortable with performing through Poetry Out Loud, a national recitation competition. She says many who are initially reluctant to perform in a play are won over by their experience in the poetry event. "I believe drama brings education to life and can motivate," she says. "It's a really fun part of the job to see that."
Chaffee's recent honor temporarily puts her job at Codman on hold. Still, she reminds herself that stepping away creates an opportunity to step up for student interests. "Over the year, I want to emphasize the power of interdisciplinary education that advocates for the arts and social justice," she says. "I intend to push for all diverse learners to have access to quality education and for teachers to have the chance to be lifelong learners." For students to grow, Chaffee stresses, teachers need to keep growing: "I know I still am."